With the Fundación CEOE, most of the Producer Responsibility Organisations (PROs) which are part of the OfiRaee Coordination Office, and in partnership with the Fundación SEUR, we began an exciting project in late 2020 that continued throughout 2021. Its success has encouraged us to organise a second edition that will take place throughout 2022.
This project is 'Digitalización Sostenible' (Sustainable Digitisation), an initiative that is part of the 'Empresas que ayudan' (Companies that help) project run by the Fundación CEOE, which aims to contribute to reducing the digital gap that many people in Spain suffer from by means of a social collection of computer equipment and components all over the country.
The aim was to prepare them for reuse so that they could be reused for the benefit of minors, senior citizens and other groups at risk of exclusion who do not have sufficient access to technology.
Thanks to donations from more than 60 companies, freelancers and organisations from all over Spain, we collected a total of 4,692 computers and computer components in the first edition, and 2,594 of these devices were refurbished for a new lease of life. The remaining 2,098 pieces of equipment, which were not in suitable condition for reuse, were used for recycling processes to recover and valorise the materials they contained.
The refurbished devices were distributed with the help of the Fundación SEUR through 40 NGOs that regularly work with the Fundación CEOE. As a result, nearly 16,000 people have been benefited from using the devices provided through various social programmes undertaken by organisations including Cáritas Diocesana, Grupo Social Lares, Fundación Amigó, Creatica, Formació i Treball (La Fundació Amiga), Fundación Secretariado Gitano, Fundación ExE, EMET Arco Iris, Proyecto Hombre, Asociación Bienestar y Desarrollo (ABD), Obra Social San Juan de Dios, Asociación Arrabal-AID, Mensajeros de la Paz and Fundación Educativa Franciscanas de Montpellier, among many others.
In addition to its social aspect, the aim of 'Sustainable Digitisation' is to contribute to the development of the circular economy through
fostering the reuse of devices, thereby reducing the generation of waste and preventing the potential pollution that they can cause. Thanks to the reuse and recycling of equipment, we achieved a total saving of emissions amounting to 108,009 kilograms of CO2 equivalent.
"The combination of values, commitments and shared efforts has enabled us to be part of a wonderful initiative, which combines solidarity
and creating opportunities for people at risk of exclusion while protecting the environment and promoting the circular economy."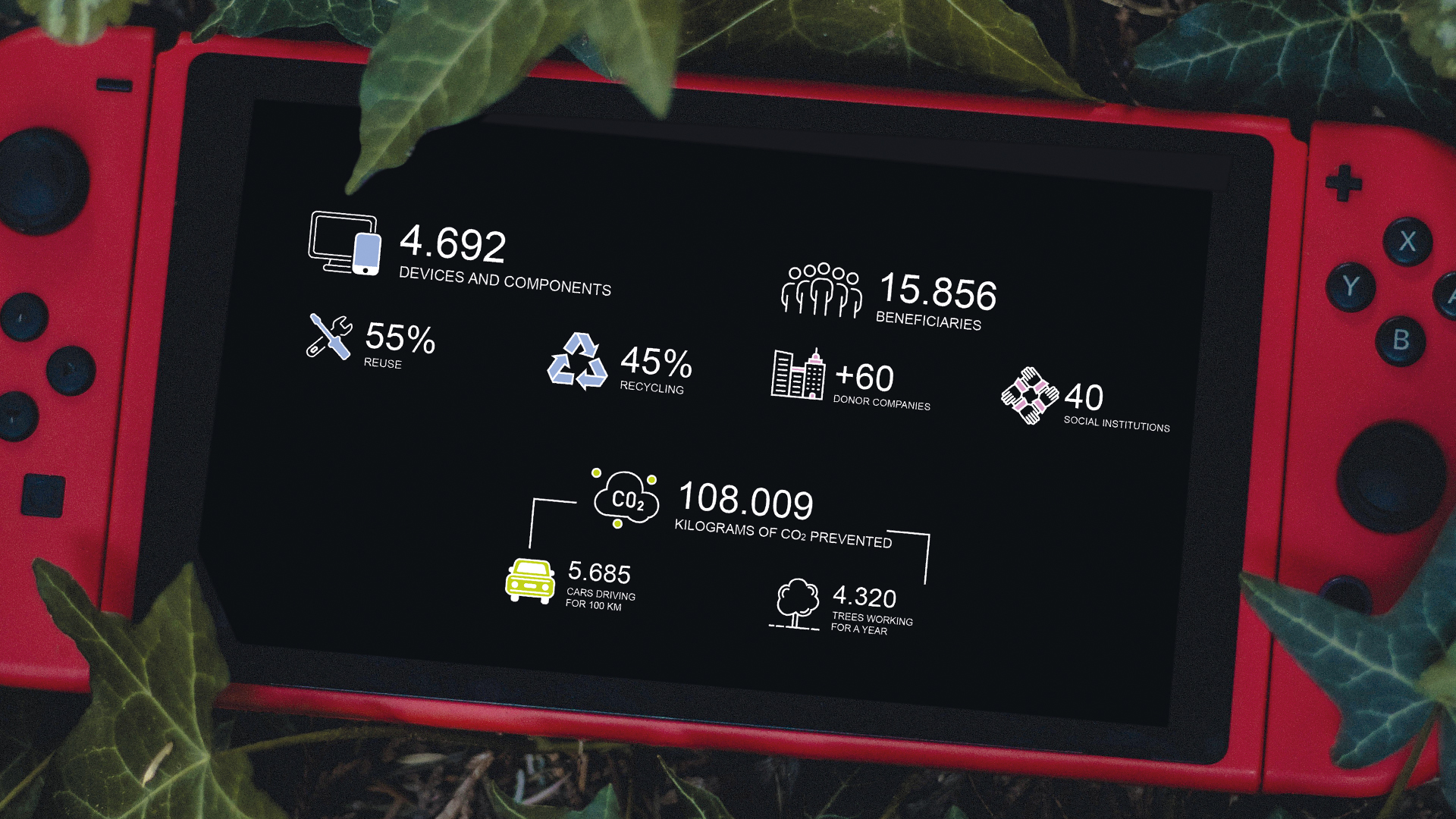 This reduction in the carbon footprint is equivalent to the CO2 emitted by about 5,700 petrolpowered cars driving for around 100  kilometres, or the amount that more than 4,300 trees can absorb over a year, and has generated a major benefit for the environment in terms of reducing this type of emissions that contribute to the planet's global warming.
All the promoting and collaborating institutions are very proud of the fantastic results achieved in this first edition of 'Sustainable Digitisation'. Partnerships to achieve goals, outlined in Sustainable Development Goal 17, are a powerful instrument for progress
towards the achievement of other goals such as quality education (SDG 4), reduced inequality (SDG 10), responsible production and consumption (SDG 12) and climate action (SDG 13).
We are convinced that working together is one of the most powerful driving forces behind social transformation, and for this reason we would like to invite companies of any size, self-employed workers, government bodies and any other type of institution to join 'Sustainable Digitisation'. Together we can continue moving forward towards the goal of providing universal access to technology for everyone in Spain and building the model of a fairer, inclusive and supportive society which we believe in. More information and registration are available at  www.digitalysostenible.com
"We would like to invite companies of any size, self-employed workers, government bodies and any other type of institution to join  sustainable Digitization, because together we can continue moving forward towards the goal of providing universal access to technology for everyone in Spain."